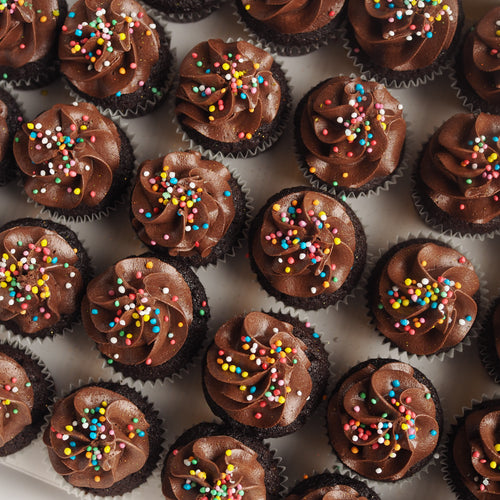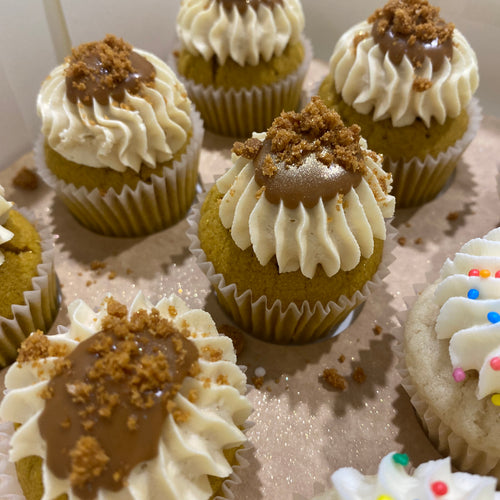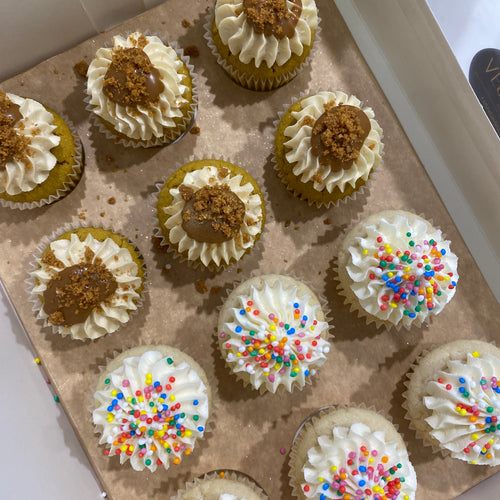 GF1_ALMONDS
•
GF2_ALMONDS
•
GF2_COCONUT
•
gluten-free option
•
miniCupcakes
•
NGF_GLUTEN
•
NGF_SOY
•
Mini Cupcakes
As per popular request, we have brought mini cupcakes to you! They are cute as a button & will be so popular at your next party.
Minimum order 24
We recommend pairing Biscoff with chocolate or caramel cupcakes. Cookies & Cream with Chocolate. Please note that cookies & cream and Biscoff flavours are not gluten-free.
All mini cupcakes come with "100's and 1000's", except Biscoff and Cookies & Cream. Please note that we cannot fit more piping that what is pictured (we cannot make mini versions of our regular sized cupcakes). Colour shades are made as per our discretion. For other colour requests please email us, there is additional costs for custom orders.
We do use soy, gluten,nuts, and other allergens in our facility, so there is a possibility of cross contamination, we take all necessary precautions to prevent contamination, such as separate preparation, separate storage, product labels, extensive and ongoing staff training. We also hold a 5 star food safety rating for our high practise standards.
Non Gluten Free:

Gluten

Soy
Gluten Free:
Gluten Free Vanilla, and Caramel flavours:

Almonds
Gluten Free Chocolate Flavour

Almonds

Coconut
This cake is available for pickup. Choose the date and time of pickup in the cart.