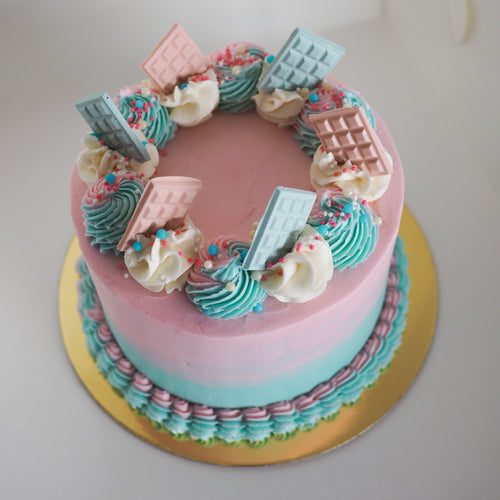 GF1_ALMONDS
•
GF1_SOY
•
GF2_ALMONDS
•
GF2_COCONUT
•
GF2_SOY
•
gluten-free option
•
NGF_GLUTEN
•
NGF_SOY
•
reveal
•
Reveal Cake
Gender Reveal Cake: This super cute reveal cake has been designed to meet your Reveal needs!
You can chose between pink and blue icing for the inside of the cut! When you cut the cake it will reveal the gender! Please note that the colours shown on your screen/monitor varies according to different devices. 
Cake Flavours: Please select from Chocolate, Vanilla and Caramel
We do use soy, gluten,nuts, and other allergens in our facility, so there is a possibility of cross contamination, we take all necessary precautions to prevent contamination, such as separate preparation, separate storage, product labels, extensive and ongoing staff training. We also hold a 5 star food safety rating for our high practise standards.
Non Gluten Free:

Gluten

Soy
Gluten Free:
Gluten Free Vanilla, and Caramel flavours:

Almonds

Soy
Gluten Free Chocolate Flavour

Almonds

Soy

Coconut
This cake is available for pickup. Choose the date and time of pickup in the cart.